$150,000 Queensland pub verdict overturned: Putland v Nowak [2012] QCA 121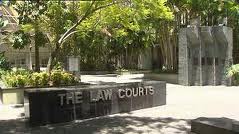 Joseph Nowak and Paul Putland lived in the same residential block on the Gold Coast, with the same body corporate in Southport. Nowak had been having difficulties with the body corporate because he had carried out structural works in the garage of his unit without body corporate approval and had also let out his garage commercially.
Nowak, a financial adviser and his father could attend body corporate meetings, although they had no vote. At the AGM on 3 February 2009, one or more of the proprietors said words to the effect that Nowak had molested a young girl in his unit. A female proprietor referred to Nowak as a "toe rag" and a "child molester". Evidence was given that Nowak smirked in response. There had been an incident where a young girl was heard to scream out during the night from Nowak's unit and the police were called. Nowak told the meeting that "he was comforting her" [26]. There was no defamation claim in relation to these matters.
On 6 February 2009, Nowak and Putland were at the Rainbow Bay Surf Club in Southport. Nowak alleged that on that night, in front of around 50 people, Putland kicked him in the back of the leg, yelled at him that he was a paedophile and Nowak asked why he would say that and Putland kept screaming that he was a paedophile. Nowak asked why Putland kicked him and Putland asked "Why would you take photos of my son?". Nowak replied "Yeah, well you know what's going on with the body corporate situation" and Putland lunged at him and screamed "You're a paedophile." He probably repeated this around 15 times and he made a big scene. then started a hate campaign against Nowak, calling him a paedophile several further times after that date. Putland denied all of this. Nowak sued.
The matter was heard in the District Court of Southport and the trial ran for 6 days. Nowak called 5 other witnesses, but did not call one Steven McArthur, who was referred to in the statement of claim as one of 2 people who heard the statements at the Surf Club. Mr Taylor, who knew and was friendly with both parties, gave evidence about what happened at the Surf Club, saying he saw Putland call Nowak a paedophile maybe twice, but said nothing about whether Putland kicked Nowak.
Mr Graham gave evidence that when he was delivering tiles to Nowak's home, he and a Mr Kermond witnessed Putland's son telling Nowak he was a paedophile. Putland then backed that up with a further comment and the son said "You're forever going past my window hassling me, looking through my window and you're a paedophile" [13].
Putland gave evidence that he never used the P-word and never kicked Nowak. He called Mr Kelly, a retired solicitor, who was witness to the events at the Surf Club and Mr Boniface, a retired engineer who was chairman of the body corporate, and gave evidence about what happened at some of the body corporate meetings.
The trial judge found in favour of Nowak and accepted his credibility over everyone's. He accepted Nowak's version of what happened at the Surf Club and the hate campaign thereafter. He awarded Nowak damages of $150,000 plus interest and costs. Generous, to say the least. So generous, that Putland appealed to the Queensland Court of Appeal.
The notice of appeal had 35 grounds of appeal and at the actual appeal, argument proceeded without reference to any of them. Appeal Justice Muir conducted an analysis of the evidence and basically took a sword to the reasoning of the trial judge. Accepting that it is rare to overturn a trial judge's decision, if based on the credibility of the witnesses, Muir JA concluded that the trial judge's acceptance of Nowak's credibility in the circumstances, was glaringly improbable and ultimately, the appeal was allowed. The criticism of the trial judge's findings included these:
The trial judge criticized Putland for failing to call witnesses, but did not criticize Nowak, who failed to call Steven McArthur, who was referred to in the statement of claim as a witness to the events at the Surf Club and was central to the outcome of the case [75];

Nowak's evidence of the events at the Surf Club did not compare well with anyone else's. His version was the only version where there was physical contact or where Putland had kicked him in the back of the legs. The evidence of Mr Taylor and Mr Kelly were closer to Putland's version [54];

Nowak made an application for an apprehended personal violence order and in his document claimed Putland "yelled and screamed verbal abuse at him… made a big scene and up to 30 times called him a paedophile". Nothing was said about being called a wog by Putland;

There was little to inspire confidence in the reliability of Nowak as a witness [60];

N

onetheless, the judgment paid far more attention to the evidence on Nowak's side than to Putland's side [78] and was far more critical of Putland's evidence than Nowak and his witnesses [83];

The trial judge should have found that Nowak was disposed to giving "non-responsive, evasive, self-serving and frequently unconvincing answers to questions in cross-examination" [84];

The trial judge's finding that Nowak's evidence was "where possible, supported by other witnesses" could not be sustained in respect of the events at the Surf Club or at the body corporate meetings.
So the judgment at first instance was demolished and the appeal was allowed. Costs of the first trial became costs in the cause and Muir JA concluded with this: "It is to be hoped that the parties will realize that this dispute has already gone far too long and consumed too much time, emotional energy and costs. If commonsense does not prevail, there must be a retrial with all the expense that entails."
Back to the Gold Coast.