Mick Molloy and Before the Game: Just not funny: Nicole Cornes v Channel Ten [2011] SASC 104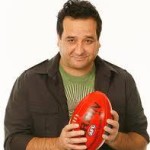 For those who follow the AFL, Before the Game is a well-known television show on Channel Ten that precedes each Saturday night's match and has done so for many years. On its panel are a range of football journalists and comedians. One of the comedians is Mick Molloy, a Melbourne favourite from the D-Generation and The Late Show. Being a Richmond supporter, Molloy is used to losing. Which is precisely where all of this is headed.
The players in this game were Nicole Cornes, wife of Graham Cornes, a famous South Australian football identity and Stewart Dew, a player who played for Port Adelaide and famously came out of retirement to win a Grand Final for Hawthorn in 2008.

At the end of 2006, Stewart Dew retired so that he could move with his actress girlfriend, Teresa Palmer, to LA. Nicole Cornes, who married Graham Cornes in 1993, was a newspaper columnist in South Australia and was so impressed about Dew's decision that she wrote a column about his commitment to his girlfriend and noted that he was a sensitive soul who tended roses in his rose garden.
In June 2008, Stewart Dew had returned to the AFL ranks to play for Hawthorn. He was on the Before the Game panel and being asked about his sex life, as was pretty much the norm there. Reference was made to Ms Palmer and then to his rose garden. Someone noted that the plaintiff was the person who had written about the rose garden and Molloy promptly said: "And apparently you slept with her too." Dew denied it, others on the panel denied it and then tried to move on.
But for the Cornes family, this was very serious. Nicole Cornes sought an apology, and after months of negotiation, neither could agree and a belated one was read out by Molloy in September, three months after the event.
So Nicole Cornes sued and it went all the way to trial by judge alone in the South Australian Supreme Court.
Channel Ten ran a range of defences, but mainly this: it was a joke, everyone knew it was a joke and no-one believed it was true: the words had no meaning. They lost on all accounts.
Justice Peek said it wasn't funny, and even if the words were meant in jest, it did not deprive them of a defamatory meaning. The fact that everyone denied it shortly after did not detract from the meaning of the words. The ordinary reasonable watcher would have believed that the plaintiff had sex with Dew. This was false.
Channel Ten even then tried this one on: the broadcast did not state when the sex occurred, so it might have been before the plaintiff was married to Graham Cornes. The only problem with that defence, as was helpfully pointed out by the judge: Dew would have been 14 years old at the time!
So the plaintiff won comprehensively: damages assessed at $85,000 and the AFL circus could move onto something else. What is the moral of the story? Do not go for Richmond.