Oscar Wilde v Marquess of Queensberry, April 1895: The Importance of Being a Colossally Bad Litigator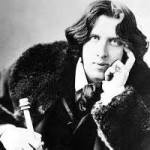 In the late 19th century, Oscar Wilde was one of the most celebrated writers in England. A member of London's High Society, an extravagant personality and the author of successful books such as The Importance of Being Earnest and Dorian Gray. To this day, the books are still considered all-time classics.
Although he was married and had a child, Wilde was gay, which at the time, was not altogether acceptable. In fact, to act on it was a crime.
In 1895, he was involved with Lord Alfred "Bosie" Douglas, the son of the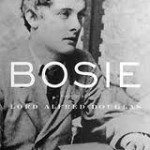 Marquess of Queensberry. The Marquess was so incensed about this affair with his son, that he became intent on destroying Wilde. He put in place an evil and cunning plan. Wilde walked straight into it.
The Marquess left his calling card with a hall porter in Albermarle Club, an establishment where Wilde often dined. He told the porter to hand it to Wilde. The card said this: "To Oscar Wilde, posing as a somdomite." While his spelling was not so good, and no-one who read it understood it, it had the desired effect on Wilde. It set in motion an unstoppable train.
In a decision that changed the course of his life, Wilde, against the advice of his friends and family, sued the Marquess for criminal libel. The decision to sue was an enormous risk. The upside, given that only the hall porter had seen this card, was small, the downside on the other hand, was huge. If a court found that Wilde had engaged in sodomy, then he could be charged with that crime and could spend time in jail. But Wilde believed he had to protect his reputation and believed that his own intelligence and personality would dominate in a court of law. Ignoring the advice of those close to you: First colossal mistake.
He briefed Edward Clarke QC, a highly respected barrister, who said this to Wilde at the outset: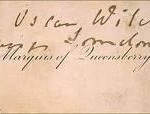 "I can only take the case sir, if you assure me on your honor as an English gentleman that there is not and never has been any foundation for the charges that are made against you."
Wilde emphatically told Clarke that the charges were groundless. Lying to one's barrister: second colossal mistake.
Before the trial, the Marquess filed a plea of justification. The document identified ten male witnesses, with dates and places where sodomy occurred. Again, those close to Wilde urged him to withdraw the charges, but he refused –  ignoring the evidence: third colossal mistake.
Counsel for the Marquess was to be Edward Carson QC, a former Oxford colleague of Wilde's.
On 3 April 1895, the trial started. During his evidence in chief, Wilde stated that he was not a homosexual. A lie in the witness box – fourth colossal mistake.
Under cross-examination, Carson had a wealth of helpful evidence to call upon. He turned to the words of Wilde's own novel, Dorian Gray. The barrister began reading from Dorian Gray a scene in which the painter Basil Hallward describes his feelings for Dorian.
"Well, from the moment I met you, your personality had the most extraordinary influence over me. I quite admit that I adored you madly, extravagantly, absurdly. I was jealous of every one to whom you spoke. I wanted to have you all to myself. I was only happy when I was with you. When I was away from you, you were still present in my art."
Moving away from Wilde's literary works, Carson tried to get Wilde to read his letters to Bosie, but Wilde refused. Carson read them himself.
"…I cannot see you, so Greek and gracious, distorted with passion. I cannot listen to your curved lips saying hideous things to me. I would sooner-than have you bitter, unjust, hating…. I must see you soon. You are the divine thing I want, the thing of grace and beauty; but I don't know how to do it,"
Carson then asked Wilde: "Is it the kind of letter a man writes to another?"
Wilde: "It was a tender expression of my great admiration for Lord Alfred Douglas,"
Things were getting from bad to worse.
Carson turned to Wilde's association with a number of young males, one named Alphonse.
Wilde: "…. it is true that I asked him to lunch with me. He also dined at my house, and lunched with me at the Marine Hotel."
Carson: Was his conversation literary?
Wilde: On the contrary, quite simple and easily understood. He had been to school where naturally he had not learned much.
Wilde continued….
"It is not true that I met him by appointment one evening and took him on the road to Lancing, kissing him and indulging in familiarities on the way," he asserted. Offering more information than needed – fifth colossal mistake.
Carson produced a series of gifts Wilde had purchased for the boy, including a cigarette case, a photograph of Wilde, a signed edition of one of his books, and a silver-topped walking stick.
Regarding another boy named Walter Grainger, Carson simply asked, "Did you kiss him?"
Without thinking of the consequences, which was his sixth colossal mistake, Wilde replied.
"Oh, dear no," he said. "He was, unfortunately, extremely ugly. I pitied him for it."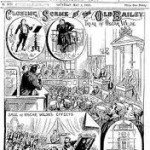 For Wilde, that must have been the end. Carson kept hammering him about why he had used the word "ugly" and while he tried as hard as he could, the evidence just overwhelmed him. His friends and family told him to flee, to avoid possible criminal charges, but he could not and did not.
The case was dismissed and soon after, Wilde was arrested for gross indecency.
Meanwhile, the Marquess did not relent. A costs order had been made in his favour and he set about enforcing it. Wilde was forced to sell all of his possessions and went into bankruptcy. On 25 May 1895, he was convicted of the criminal charges and sent to 2 years hard labour in Reading Prison.
Abandoned by London's elite, jail took its toll on Wilde and he wilted. After he got out, he died in 1900 in poverty in France, at the age of 46. Meanwhile, his books and plays live on, as immortal as Dorian Gray himself.