Jeffrey Archer v Daily Star (1987): You could write a book about it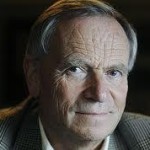 The only reason that Jeffrey Archer's real life story has not become a movie is that no-one can decide if he is the good guy or the bad guy.
Well known for being a famous and successful author, a politician and general man about town, Archer was also shown to be a manipulative cunning operator of which Machiavelli would have been proud.
At 29, as a Conservative, he had been elected as a Member of Parliament for the Lincolnshire constituency of Louth. At 36, he wrote his first book, Not a Penny More Not a Penny Less, which ironically was so successful, that it helped him avoid bankruptcy. At the time, he had been a casualty of a fraudulent investment scheme involving a Canadian company, Aquablast. Fearing imminent bankruptcy, he stood down as an MP.
Then came his massive success as an author. Kane and Abel was number one on the New York Times' best seller list and his most successful book. His other books included First Among Equals, The Prodigal Daughter and Honour Among Thieves.
In September 1985, Margaret Thatcher made Archer Deputy Chairman of the Conservative Party.
In 1986, he resigned because of articles published in The News of the World and The Daily Star. So begins the defamation story.
The first article appeared in The News of the World on 24 October 1986:

Tory boss Archer pays vice girl." It claimed that Archer had paid a prostitute, Ms Mary Coughlan, £2000 to flee the country.
News of the World had filmed and taped Michael Stacpoole, a representative of Archer's, giving £2,000 to Ms Coughlan at Victoria Station, in London, so that she could leave the country and avoid reporters. Ms Coughlan had also earned £6,000 from The News of the World for taking part in the sting.
The Daily Star followed up on the story within a week. It claimed that Archer was Ms Coughlan's client. It stated that on 9 September 1986, Archer had met Coughlan in central London and went to room 6a at the Albion Hotel, near Victoria Station, whereupon he paid her £70. Archer, being a "happily married" man at the time, sued The Daily Star for libel.
1987 – The defamation trial
The trial took place in 1987 and The Daily Star asserted that the story was true. Stacpoole had gone missing and Archer emphatically denied paying for sex. He did however, admit giving Coughlan £2,000, and contended that he did so because she was down on her luck and needed some help to avoid the baying media pack. He admitted that was foolish but denied ever having sex with Coughlan.
At the start of the trial, The Daily Star changed the details of its plea. It said that the encounter was not 9 September, but had actually taken place on 8 September. A seemingly innocuous matter, but it was bound to have an enormous impact on Archer's life.
Coughlan gave evidence at the trial and was cross-examined for 16 hours. Ripped apart about being a prostitute, she insisted that she was telling the truth. Among other things, she said:
the encounter with Archer was over in 10 minutes, including the time to get undressed;
"Because it was over so quickly, I suggested that he relax for a while and he could try again.";
Archer had said that he was a car salesman and left soon after;

Archer said that he spent the night of 8 September dining with his agent, Richard Cohen. The impression during the trial given by the Archer camp was that his marriage to Mary Archer was rock solid. Mary Archer gave evidence and apparently cried a lot. She said this: "Anyone who knows Jeffrey would know that far from him accosting a prostitute, if one accosted him, he would run several miles."
The Archer camp's case was a massive success with the judge and ultimately, with the jury. Justice Caulfield, in his closing address to the jury pointed out that it was their task to weigh Archer's word against a prostitute who had resorted to "guile and cunning", while working with The News of the World. He also:
Said Archer was "worthy and healthy and sporting";
Wondered out loud whether Archer was the kind of man who sought "cold, unloving, rubber-insulated sex in a seedy hotel round about quarter to one on a Tuesday morning after an evening at the Caprice.";
Said of Mary Archer that for the jury: "vision of Mary in the witness box would never disappear. Has she elegance? Has she fragrance? Would she have, without the strain of this trial, radiance?".
After 4 hours of deliberation, the jury returned. Damages for Archer for £500,000, a then record. The Daily Star were also hit with a costs order of £700,000. Not a good day for the press. One amazing win for Jeffrey Archer!
Or so it seemed…..
1999 – Perjury allegations
Archer, having written The Fourth Estate and having achieved further outrageous success as an author, was making a political comeback. His notoriety and fame had won him favour in high places once again. By then, he was known as Baron Archer of Weston-super-Mare, and he led in the polls as the Conservative Party's candidate to become Mayor of London.
But not all skeletons go away quietly. Some don't go away at all.
An old friend of Archer's did not believe that Archer should be Mayor.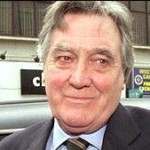 His name was Ted Francis and he was a TV producer. While he did not give evidence at the trial in 1987, he had been asked to prepare a written statement beforehand, providing an alibi for Archer as to his whereabouts on the night of 9 September. Because the Daily Star changed its story of the date of the encounter at the start of the trial, this evidence was not needed and Francis was not called to the witness box.
Anyway, Francis swore that he had had dinner with Archer on the night of 9 September at a restaurant called Sambuca. This was a lie. Francis believed that the alibi was required by Archer to save his marriage. At the time, Archer had been having an affair with Ms Andrina Colquhon. Archer told Francis that he was dining with Colquhon on that night.
Francis went to News of the World and told them that Archer had asked him to give a fake alibi for the case. This had a domino effect. The News of the World then taped Francis having conversations with Archer, where Archer effectively admitted that he had asked Francis to provide the fake alibi.

As the scandal broke, the Conservative Party dropped Archer from his candidacy for the Mayor of London position, and things quickly went from bad to worse. Archer's former personal assistant, Angela Peppiatt came out and spoke of how she had been managing his hectic life at the time of the trial. Archer was in politics, writing, he had a wife, a mistress and other girlfriends. She bought present for the girlfriends, lied on his behalf to his mistress and to his wife.
In preparation for the trial, Peppiatt helped research TV schedules so that Archer could say that he was at home watching television when he was not and she arranged for payments to Stacpoole, so that he would leave the country for the trial. Then when Archer was asked to produce his diaries, he got her to help forge diaries, which she did. What Archer did not know was that she kept copies and wrote a statement detailing her actions. This all came out.
If that wasn't bad enough, Stacpoole then decided to come out of the woodwork as well. Archer had paid him £40,000 hush money so that he would vanish for the trial.
Further, another of the 1987 witnesses, Terrence Baker, a theatrical agent who gave key evidence of Archer's whereabouts on the night of 8 September, and stated that they were at dinner at Le Caprice, had confided in a friend before he died, that his evidence was a complete fabrication. He said that he lied on oath at Archer's behest. This came out too.
The matter then went to Scotland Yard, and Archer was ultimately charged with four counts of perverting the course of justice and perjury. Francis was also charged.
2001 Perjury Trial
The perjury trial started in May 2001 and ran for seven weeks. The Crown called a range of witnesses, including Angela Peppiatt. As Archer's personal assistant during the trial, she said this:
"He was meant to be whiter than white and during this period after the trial he still had his mistress and he still had other girlfriends that came to his flat. I was very much a part of what that was all about.";
"Jeffrey came to me with this piece of paper and a blank diary and asked me to fill in the names on the piece of paper that he had handed me.";
Archer was convicted. He got 4 years jail and paid the Daily Star back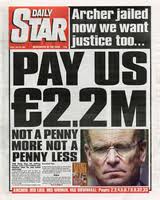 £2.7 million. Francis meanwhile, was acquitted. While Coughlan unfortunately died in a car crash in August 2001.
Archer has since gotten out of prison and is still writing hugely successful novels, although none of them seem to be about his own amazing adventures.