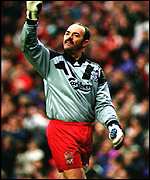 Bruce Grobbelaar was an elite goal-keeper in the English Premier League for Liverpool for 20 years and 627 games. He won all sorts of games, titles and medals, famously fuzzing two penalty-takers from AS Roma in the 1984 European Cup final by wobbling his legs around like spaghetti . Grobbelaar was a fixture during Liverpool's dominant years in front of the goals in the 1980s and early 1990s.
But by the 1990s, he was hanging around with a bit of a bad crowd: Christopher Vincent, who the trial judge described as "a thoroughly dishonest con-man" and Heng Suan Lim, a Malaysian businessman with links to an Asian betting syndicate, known as "the short man".
Vincent had been a former business associate of Grobbelaar in Zimbabwe, and in 1994 had a business venture with him which fell apart. Vincent could not account for Grobbelaar's large investment that was lost, and the pair fell out.
So what happens when you are famous and you fall out with "a thoroughly dishonest con-man" in England?… He sells his story to The Sun.
On 6 September 1994, Vincent went to The Sun with a price of £40,000. He got £33,000, and later asked for more. He alleged to The Sun that Grobbelaar, affectionately known to his Liverpudlian fans as "Brucie" was engaged in match-fixing.
Vincent alleged that Grobbelaar had received £40,000 after his Liverpool had a loss to Newcastle and that he would have been paid £80,000 had they lost a game to Norwich, but they drew that one because Grobbelaar accidentally saved a shot with his foot while diving the wrong way.
The Sun journalists, probably frothing at the mouth by this stage, and keener for a front page spread than Paris Hilton, were presumably hosed down by their lawyers and told to get actual evidence. So they miked Vincent up, put a wire on him and sent him out to speak with Brucie about match-fixing, the short man and possibly catching him on tape red-handed.
What followed was 50 pages of transcribed and videotaped recordings from meetings in September and October 1994. In those meetings Grobbelaar said many things he would later regret:
On 30 September 1993, Grobbelaar and Vincent had driven together from Chester to the Hilton Hotel at Manchester International Airport where Grobbelaar received £1,000 or £1,500 in cash from the short man;
On 21 November 1993, Liverpool lost 0-3 to Newscastle. Grobbelaar said that the short man had asked him to fix this game and had paid him £40,000 for that. On 25 November 1993, Grobbelaar and Vincent visited Fashanu and it was then, the newspaper argued, that he was paid for the Newcastle result.
On 4 January 1994, Liverpool played Manchester United and drew 3-3. Based on the tapes, the newspaper argued that if Liverpool had lost that match Grobbelaar would have made £125,000. The newspaper argued that in the course of that match, Grobbelaar made two "blinding saves" accidentally.
On 4 February 1994, Grobbelaar was staying in the team hotel in Norwich and on the eve of Liverpool's match against Norwich the next day, in breach of club rules, Grobbelaar drove with Vincent to London where he met the short man and received £1,500 before returning to Norwich in the small hours of the next day. Liverpool then drew with Norwich 2-2. The newspaper alleged that one of Grobbelaar's saves was made accidentally.
In July 1994, Grobbelaar went to Malaysia and played in an invitation match. He told Vincent that at that time, he was being "sussed out by the … short man's people."
Grobbelaar accepted that in November 1993, he paid Vincent £20,000, partly in payment of a bill and partly as a deposit on a development scheme in Zimbabwe. Grobbelaar said the money came from his stack of cash kept in his sock drawer.
In August 1994 Grobbelaar left Liverpool and joined Southampton. Around that time, Grobbelaar and Vincent fell out.
In a match against Coventry on 24 September 1994, after Grobbelaar's first unrecorded meeting with Vincent, Southampton won 3-1. For Coventry's goal, Grobbelaar pushed the ball into the back of the net;
On 5 November 1994, Southampton played away to Manchester City, two days after Grobbelaar's last meeting with Vincent when he received £2,000 pounds cash, and was drawn 3-3.
Grobbelaar reached an agreement with Vincent that he would receive £2,000 cash every fortnight until he selected a particular match to be lost, for which he would be paid 100,000.
On 3 November 1994, Vincent paid £2,000 cash to Grobbelaar in an envelope.
On 8 November 1994, Grobbelaar was due to fly from Gatwick Airport to Zimbabwe. Unbeknownst that all his dealings Vincent were on tape, Grobbelaar arrived at the airport and was met by a rolling maul of journalists, microphones and cameras. He denied everything and later spoke with the editor of The Sun.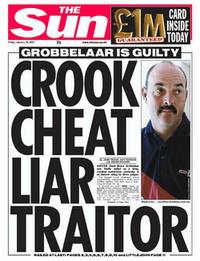 For the next 8 days, The Sun ran a campaign of articles against the goal-keeper: For instamce. the first headline on the first front page was this: GROBBELAAR TOOK BRIBES TO FIX GAMES. The first paragraph read: "Soccer star Bruce Grobbelaar is exposed by The Sun today for taking massive bribes to throw key matches." On page 2, the headline was "GROB I let in 3 goals and picked up £40,000". Cartoons and jokes continued saying that Grobbelaar had fixed matches, let in goals, saved goals by mistake and deliberately dropped the ball.
Grobbelaar sued The Sun, but he was also subsequently faced with criminal charges. Grobbelaar was charged with conspiracy to corrupt, along with the Wimbledon goalkeeper Hans Segers, Aston Villa striker John Fashanu and Malaysian businessman Heng Suan Lim, aka "the short man".
Three years and two trials later, successive juries could not agree on a verdict, so the defendants were cleared. No conviction.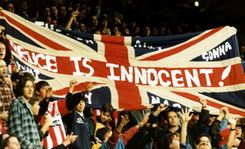 Then Grobbelaar went on with his libel claim.
In its defence, the newspaper relied largely on what Grobbelaar said himself in the taped meetings. They alleged that during those meetings, Vincent put corrupt proposals to Grobbelaar who responded positively and also said that he had acted corruptly in the past. At the last of the meetings, Grobbelaar received £2,000 pounds in an envelope from Mr Vincent.
The parties agreed that the articles contained the following imputations of and concerning Mr Grobbelaar:
having dishonestly taken bribes, Grobbelaar had fixed or attempted to fix the result of games of football in which he had played; and
Grobbelaar had dishonestly taken bribes with a view to fixing the result of games in which he would be playing.
Grobbelaar denied all of it. He claimed at trial that he never dishonestly accepted any bribe, had never made a corrupt agreement to fix or attempt to fix any game of football and had never in fact fixed or attempted to fix any game. He said:
he had only agreed to make forecasts and provide information to the short man;
he lied to Vincent because he was trying to earn Vincent's trust and confidence, as part of an overall scheme to discover the identity of those behind Vincent's cunning plans, so as to expose them to all of the appropriate authorities.
The critical issue at trial was whether the confessions were true or false.
At trial, the newspaper did not call evidence from Vincent, obviously not impressed with his credibility. The videos of the games and the goals were played in front of the jury. Expert evidence from Bob Wilson and Alan Ball supported Grobbelaar's case.Wilsonsaid there was no evidence of anything other than good or outstanding goal-keeping. The newspaper called no evidence to contradict this. It accepted that in 4 of the 5 games Grobbelaar did not deliberately let in any goals.
But there still remained all of the admissions made by Grobbelaar on the tape recordings. The jury seemed to accept Grobbelaar's version that he was an undercover anti match-fixing superspy. He won £85,000.
Anyway, The Sun (the silenced away crowd in the courtroom) would have been shocked. So shocked, that it appealed to the Court of Appeal. It argued that the jury's verdict was perverse, which in betting parlance, for an ordinary defamation case, is a long shot.
But the long shot came home. The newspaper argued that the articles meant that Grobbelaar had corruptly agreed to fix, had accepted payment for fixing matches and that whether he had actually fixed matches or attempted to do so was a matter of relatively minor significance. The Court of Appeal came down with this: Grobbelaar's story was:
 "quite simply, incredible. All logic, common sense and reason compel one to that conclusion."
 The jury's verdict was set aside and replaced with a verdict for the newspaper. Time for spaghetti legs to be shocked. He appealed to the greatest court of all of England: The House of Lords.
So the Law Lords with their Harry Potter-esque names, pulled on their Adidas boots and set about their business. They went through the problems that Grobbelaar faced in proving his story that he was a vigilante match-fixing avenger:
 Over the 50 pages of transcript from the tapes, much was devoted to working out the terms of the corrupt bargain between Grobbelaar and Vincent. Grobbelaar was anxious about the risk of exposure and concerned to plan his response if it came to light.
Grobbelaar made no more than a half hearted attempt to discover the names of Vincent's backers, apparently keener to conceal his own identity than discovery theirs [17].
Grobbelaar pleaded in his court documents that he denied the existence of the short man. This lie remained uncorrected for 3 years.
Grobbelaar denied there was a meeting with Fashanu on 25 November 1993. He could not explain that lie at the trial.
During the period of his meetings with Vincent, Grobbelaar made no mention of his plan to obtain evidence of wrongdoing to anyone.
When he received £2,000 cash, he did not take it to any authorities, but

Bottom row, no.3

left it in the glove compartment of his car.

When confronted at the airport, Grobbelaar's initial reaction was to challenge the reporters to prove their allegations and to resort to half-truths [18]. He was emphatic that he never fixed or attempted to fix a match.
Even in his conversation with the editor, he gave no more than a passing hint of what was, at the trial, to be the bedrock of his case.
The House of Lords concluded with this: "On all the evidence it defies reason to accept that the appellant did not make a corrupt agreement with Mr Vincent and accept a bribe from him."
But there was still no evidence that Grobbelaar deliberately let in goals. So where did that leave the newspaper? According to the Lordships then, The Sun lost. The Court of Appeal's decision was overturned, damages re-assessed and awarded to Mr Grobbelaar. How much? Well the various Lorships from Woodborough, Foscote and Cornhill put their minds together and agreed on a figure:
£1.
That is not a typographical error.
£1.
There it is again.
So Grobbelaar was ordered to pay costs, possibly of £1,000,000, but could not pay and was declared bankrupt.
Not finished with bookies and always looking for a happy ending, in 2009, Grobbelaar appeared in a British television commercial for the Irish bookmaker, Paddy Power, giving a punter his bet back. So very ironic.