Banker's sexual harassment and defamation claims demolished: Dye v Commsec [2012] FCA 242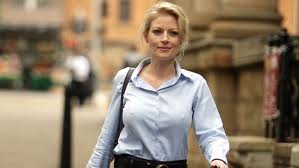 From March 2005 until November 2007, Vivienne Dye worked for Commsec. Her position was made redundant, and later, she made a claim to the Human Rights and Equal Opportunity Commission that she had been sexually harassed by two senior executives, Mr Michael Blomfield and Mr Angus Patterson.
In April 2008, her allegations were published in the media around Australia. The two senior executives were named. Commsec replied that appropriate investigations had been carried out and that Ms Dye's claims were found to be unfounded. Commsec also offered to assist the executives, if they wished to take steps to clear their names.
Blomfield took Commsec up on that offer and sued the Sydney Morning Herald and The Age, who apologized. Other proceedings were also issued against News Ltd and The Daily Telegraph. News Ltd claimed that the allegations made by Ms Dye were true. That trial ran in September 2009, and after Ms Dye had been cross-examined at some length, News Ltd withdrew its truth defence. The case settled in Blomfield's favour for an undisclosed sum. One would have thought that this might have discouraged Ms Dye from her own litigation, but she proceeded with an array of her own cases nonetheless.
Ms Dye had commenced proceedings in the Federal Court, asserting a range of causes of action, including sexual harassment. She also commenced defamation proceedings in the NSW Supreme Court, primarily in relation to publications made to the media by Commsec, after her own allegations had been made public in April 2008. Each of the proceedings were heard together in the Federal Court by His Honour Justice Robert Buchanan.
The trial started on 7 March 2011, and ended on 8 December 2011. Ninety-four days of hearing culminated in an extraordinary judgment from Justice Buchanan (744 paragraphs, 236 pages), who massacred Ms Dye's credibility as a witness and concluded that her allegations were substantially false. She lost on all accounts. His Honour stated:
 "Ms Dye's written accounts of matters [have], over the years, been substantially altered, re-ordered, edited, polished, embellished and even substantially changed as though it were a novel."
 His Honour rejected outright her assertions that the Commonwealth Bank executives had sexually harassed her and, in Patterson's case, had sexually assaulted her. He found instead that Vivienne Dye had once viewed both as mentors and later developed her own reasons, based on falsehood, to accuse them of sexual harassment.
Justice Buchanan also concluded that Ms Dye's inability to find future employment was the result of her own allegations made in April 2008: "which I am satisfied, was arranged on her behalf and with her knowledge, agreement and active participation." [24].
Regarding the defamation claim, the judgment started at paragraph [684] and page 219. Ms Dye alleged that emails were sent to the newspapers with the following imputations about her:
She made false allegations that Mr Patterson had sexually harassed her to the Commonwealth Bank;
She made false allegations that Mr Blomfield had sexually harassed her to the Commonwealth Bank;
She conducted herself in such a manner as to warrant being sued by employees of the Commonwealth Bank;
She wrongly leaked information to the media that was the subject of a Human Rights and Equal Opportunities Commission investigation.
While His Honour accepted that the publications contained several of the imputations alleged, at the end of the day, it really came down to this at paragraph [702]:
 "The imputations alleged were, if carried, in fact true. There is no need here to repeat the factual findings already made. This defence is clearly established. It defeats the action in defamation."
 Further, the publications were protected by common law privilege, including that they were in reply to an attack. A person who is attacked has both a right and an interest in repelling or refuting the attack. Ms Dye claimed malice and at [718]:
 "Ms Dye has fallen so far short of establishing malice, a matter about which she bears the onus, that it is scarcely necessary to discuss the question at all….."
 And so, not only did Ms Dye lose her case for damages, she was ordered to pay Commsec's costs of running a 94-day trial. Apparently, the costs order was around $5.85 million. Not a good day at the office.