Scottish comic wins serious jury verdict: Frankie Boyle v The Daily Mirror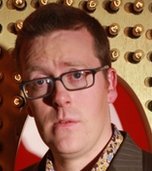 In England, Frankie Boyle is a controversial Scottish comedian who swears a lot, grows fuzzy red beards and gets in trouble because he doesn't know when he has crossed the line.  While he would have been happy to have been criticized for being "tasteless" or "offensive", for him, The Daily Mirror crossed a line on 19 July 2011 when it published an article which started with the words, "Racist comedian Frankie Boyle", and also stated that he had been "forced to quit" a well-known BBC show, "Mock of the Week".
He sued The Daily Mirror for libel and for just the second time this year, a libel trial was heard in the High Court before a jury.
Counsel for Boyle said that Boyle's humour was "deliberately challenging", extremist and that he had a thick skin. He did not mind being criticized, but he objected to being described as a racist. That was a whole other thing.
Meanwhile, The Daily Mirror claimed truth and fair comment. Counsel for the newspaper said that Boyle was a "racist comedian", he was not part of some intellectual cause and did not have a "clever message".
Boyle gave evidence and said that he had "actively campaigned" against racism and that the newspaper misunderstood the context of his use of language in jokes. Boyle said that the use of racist language in routines was satirical, to demonstrate anti-racism messages. He said:
 "If you want to attack the racist in society, don't you need to point out what those views are and hold them up for the nonsense that they are? Obvious, you might expect."
There was also evidence about Boyle's career and why he left the show "Mock of the Week". Boyle claimed he was not forced to quit and evidence was called from another comic, Miles Jupp about how Boyle wanted to leave the show.
Under cross-examination, Boyle said that he played racist characters and simply "dressed up" as people with racist views.
In closing, Counsel for the newspaper said that: "He sees himself as a man of principle. This man doesn't have a sensitive bone in his body." Instead, he makes money by telling "callous jokes" about "people who were suffering". He added that if the jury thought he had been libeled, they should award him 45p, the price of The Daily Mirror.
Counsel for Boyle said that the newspaper had an "almost insurmountable hurdle to climb" in defending as true its description of Boyle as a "racist comedian", and that it would be "political correctness gone mad" if comedians were labeled as racist when they used racial language in satirical routines.
The trial lasted for one week, and after three hours' deliberation, the jury of 12 came back with a verdict for Boyle of £54,650. Of that, £50,400 was awarded for the racist allegation and £4,250 for the second.
Boyle then tweeted his 1.1 million followers:
"I'm very happy with the jury's decision and their unanimous rejection of the Mirror's allegation that I am a racist. Racism is still a very serious problem in society which is why I've made a point of always being anti-racist in my life and work … and that's why I brought this action."
Boyle also stated that he would give the damages to charity. He continues to write a column for The Sun, The Daily Mirror's greatest rival.
Most of the material for this article comes from the Inforrm Blog in UK, which is a very helpful resource for media law developments in the UK and Europe.